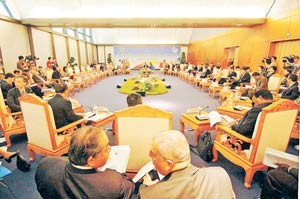 APEC Senior officials discuss together before the concluding meeting open. (Photo: SGGP/ Minh Dien)
Senior officials from APEC's 21 member economies, in the first day of the Concluding Senior Officials' Meeting (CSOM), discussed how APEC can help resume the Doha Development Agenda (DDA) negotiations.
Presided by Le Cong Phung, Viet Nam's Deputy Minister of Foreign Affairs, the CSOM's informal session also finalised their recommendations on the Ha Noi Action Plan which proposed measures with specific timetable in order to carry out cooperation contents such as support for the multilateral trading system, the reinforcement of collective action plans (CAP) and individual action plans (IAP), the promotion of high quality Free Trade Agreements and Regional Trade Arrangements ( FTAs/RTAs), trade facilitation and a strengthened business agenda.
The delegates discussed and approved a SOM report on APEC reform that will be submitted to APEC Ministers and Leaders, which included three main contents: strengthening resources and operation efficiency of the APEC Secretariat, strengthening the coherence and effectiveness of APEC processes and building a straightforward and focused agenda.
The delegates examined in depth model measures for FTAs/RTAs and agreed to assign the Committee on Trade and Investment (CTI) to finalise the wording of some measures for final recommendation by SOM Chiefs in the plenary session on Nov. 13 before submitting to Ministers.
The meeting also reviewed progress in intellectual property rights work and agreed on two new model guidelines, one for effective public awareness campaigns and another to secure supply chains against counterfeit and pirated goods.
The officials agreed on the list of APEC counter-terrorism deliverables in 2006, including the US-proposed Food Defense Initiative and outcomes of the Food Defense Workshop held in Bangkok on Nov. 1-3, the Australian initiative to organise Counter-terrorism Financing Workshops, and the APEC Counter-Terrorism Review handbook proposed by the Philippines.
Delegates endorsed the inclusion of the business resumption points of contact and aviation security points of contact in the APEC Task Force on Emergency Preparedness ( TFEP) Register of Pandemic and Disaster Management Coordinators and the nomination of Ambassador Park Sang-ki of Korea as the new chair of the APEC Counter Terrorism Task Force ( CTTF).
The Senior Officials Meeting will continue on Nov. 13 with a plenary session, discussing issues of trade and investment liberalisation and facilitation (TILF), Economic and Technical Cooperation (ECOTECH) activities, human security area and others