About a third of the cars used to transport leaders and high-ranking officials during last month's APEC summit meetings will be publicly auctioned this month by the Ministry of Finance's Department of Public Property, to provide state revenue.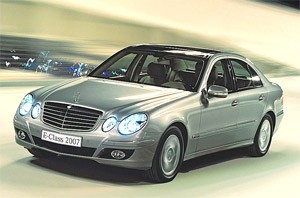 An E-Class 2007 car used during the APEC summit meetings will be auctioned
Models slated for the block include 2007 Mercedes-Benz E-Class sedans, Ford Mondeos and Ford Transits.
It is the fleet of Mercedes Benz E200Ks and E280s that is generating the most interest by car dealers, though. According to auction organizers, these models are currently unavailable on Viet Nam's market.
While opening bid prices have not been made public yet, earlier E280 models have been priced at US$136,000 and E200Ks at US$92,000 on the Vietnamese market.
According to car dealers, fair auction prices would be in the neighbourhood of US$100,000 for the E280 or US$75,000 for the E200K.
Udo Loersch, General Director of Mercedes-Benz Viet Nam, didn't conceal his intention of buying the fleet back from the government, however the head of the Department of Public Property, Pham Dinh Cuong, said the historic automobiles will be auctioned publicly and fairly at the National Conference Center in Ha Noi.
It is hoped that some of the E280s used to serve ministers and higher ranking officials such as the Japanese Prime Minister, South Korean President or the US Secretary of State, will sell at prices higher than their normal values.