As many as 282 cars used to transport leaders and high-ranking officials during last month's APEC summit meetings in Viet Nam will be publicly auctioned from January 8 to February 7, 2007, the Ministry of Finance said yesterday.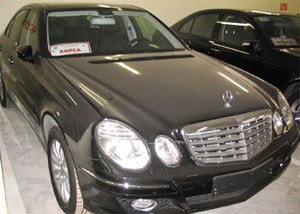 The South Korean delegation travelled in five Mercedes, including this one, which carried the president Roh Moo-hyun
All of the cars are completely new. The Mercedes, carrying leaders of APEC member economies, have a mileage of just 100-400 km. Meanwhile, 50 other Ford Transits, which were escorting cars, all have mileage of less than 5,000 km. The petrol tank of the car that carried Singaporean Prime Minister Lee Hsien Loong is still full.
There will be total four auctions. The fleet of Mercedes Benz cars including 24 lots of E280 (one car per lot), and 23 lots of E200K (two cars per lot) will be auctioned first.
The Mercedes Benz were used to serve ministers and high-ranking officials of APEC member economies such as the Japanese Prime Minister, South Korean President or the US Secretary of State.
The starting price for E280s will be VND1.97 billion (US$123,000) per lot and VND2.62 billion (US$163,000) per lot for E200Ks.
The second auction will sell 26 lots of Ford Mondeos 2.5 with 5 cars per lot at the starting price of VND3.4 billion (US$212,000) per lot, and other two lots with 16 cars at VND4.08 billion (US$255,000) per lot.
The fleet of Mitsubishi Pajero will be put up for the third auction, comprising three lots (five cars per lot) at the starting price of VND2.9 billion (US$181,000) per lot and a lot of 6 cars at the price of VND3.48 billion (US$217,000).
The fleet of 16-seat Ford Transit will be auctioned last. Nine lots of Ford Transit with five cars per lot will be auctioned at the starting price of VND2.05 billion (US$128,000) per lot, and another lot of four cars at VND1.64 billion (US$102,000).
Organizations and individuals can take part in the auctions and register at the Ministry of Finance's Department of Public Property at 28 Tran Hung Dao Street, Ha Noi or call 04-220-2828, ext 5136, 5133.
Related article:
APEC Summit Vehicles to Be Auctioned