The Court of Appeal under the Supreme People's Court has refused to commute prison sentences handed down on three defendants by the first-instance court on charges of "propaganda against the Socialist Republic of Vietnam State".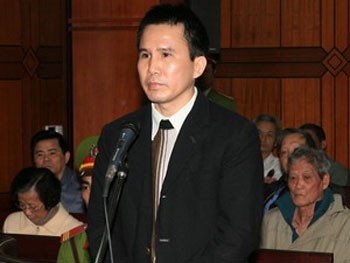 Pham Van Troi got four years in jail and four years' probation for "propaganda against the Socialist Republic of Vietnam" at a hearing on January 18-19 by the Court of Appeal in Hanoi (Photo: VNA)
The trial was held in Hanoi on January 18-19 in response to appeals filed by the three convicts with terms ranging from three to four years' imprisonment.
Tran Duc Thach, 58, from the central province of Nghe An and Vu Van Hung, 44, and Pham Van Troi, 38, both from Hanoi, were found guilty of hanging slogans, airing into the internet articles, granting interviews and spreading documents that distorted the Party and State's policies.
The contents of those documents also marred the national victories in the two past wars of resistance and the current socio-economic development, according to the appeal court's conviction.
The jury board accused that the defendants' activities all were aimed at disturbing social stability and stirring up bad public opinion against the Party and State, that might have reduced public confidence and led to a coup d'etat.
The defendants, in the presence of their attorneys, finally pleaded guilty, and had their original sentences upheld.
Troi received the heaviest punishment with four years' probation after serving four years' imprisonment. Sentences on Hung and Thach included three years' probation in addition to three years in prison, each.

In related news, the People's Court of the Ho Chi Minh City will, on Jan. 20, open the first instance trial of four instigators allegedly accused of "carrying out activities to overthrow the people's administration" under Article 79 of Vietnam's Penal Code.
The defendants are Tran Huynh Duy Thuc, 44, Nguyen Tien Trung, 27, Le Cong Dinh, 42 and Le Thang Long, 43.
They are allegedly accused of using information technology and Internet application to make and store documents with contents opposing the Socialist Republic of Vietnam State.
The Supreme People's Procuracy also accuses them of spreading these documents to cause doubt and destroy public confidence in the Party and State's leadership.
The crime is considered extremely serious as an infringement of national security. The defendants were reported to have collusion with overseas reactionary organisations and hostile forces to set up reactionary political organisations and embroil people in activities to overthrow the people's administration.
The court will announce its judgment on Jan. 21.