Vietnam is updating its People's Army step-by-step for self-defense purposes, not for an arms race, Prime Minister Nguyen Tan Dung said January 7 at a regular press conference of the Government in Hanoi.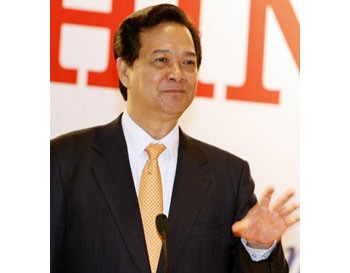 Prime Minister Nguyen Tan Dung said January 7 that Vietnam is modernizing its army for self-defense purposes. It was one of many issues discussed at a Government press conference in Hanoi. (Photo: VNA)
To improve the army's capabilities in accordance with the country's economic development, Vietnam recently negotiated with Russia to buy a modern submarine, aircrafts and rockets, PM Dung said.
A host of other issues were also discussed by the PM and ministers at the conference.
Regarding the economic growth rate, Minister of Planning and Investment Vo Hong Phuc said the rate in 2009 was 5.32 percent, the lowest level seen in the past several years.
Minister Phuc believed, however, that the economy would begin recovering in 2010 and the years to come.
On the issue of price hikes to coal and electricity, Minister Phuc said that during the process of economic integration, if prices were too low, there would be no competition.
He said that if prices were not increased to equal those of world prices, Vietnam could see an increase in illegal exports of coal to foreign countries.
However, he said the Government would implement measures to stabilize prices in 2010 and ensure that inflation would not exceed double digits.
For crude mineral exports, Minister of Industry and Trade Vu Huy Hoang said that the Government had created policies to stop the export of crude oil; however, some small-scale operations still existed.
PM Dung said Vietnam continues to exploit several types of coal but uses only types 3, 4, and 5 for production activities. Coal type 1, meanwhile, is highly valuable but also has a high cost of exploitation. Thus, it would be wasteful to use all of it for production. Some of this coal is therefore exported with earnings used for further investment.
In the long term, he said the Government would draft policies to transform coal into electricity to ensure power security.
The media also questioned why the salary of the director of the State Capital Investment Corporation (SCIC) was 10 times higher than that of the PM.
Mr. Dung responded that the Government established SCIC to manage capital of the State in businesses. The Government has yet to issue a decree that regulates the company's operation mechanism. As a result, the company now temporarily operates under regulations set for other State corporations, he said.
It is legal but does not appear reasonable, PM Dung added. The Government and Prime Minister have a responsibility to attend to this matter and tackle the issue soon, he said.
Regarding traffic congestion in Hanoi and Ho Chi Minh City, PM Dung stressed that this is a difficult stage in the country's development, but it also highlights the economic achievements of Vietnam over the last 20 years. 
To curb the problem, it is necessary to broaden and modernize infrastructure, but not limit the number of vehicles, he said.