Salinity has effected to the coastal provinces in the Mekong delta such as Ca Mau, Kien Giang, Ben Tre, Tra Vinh, Hau Giang, Long An, Tien Giang, and Bac Lieu. Currently, around 155,000 households comprising of 575,000 inhabitants lack fresh water.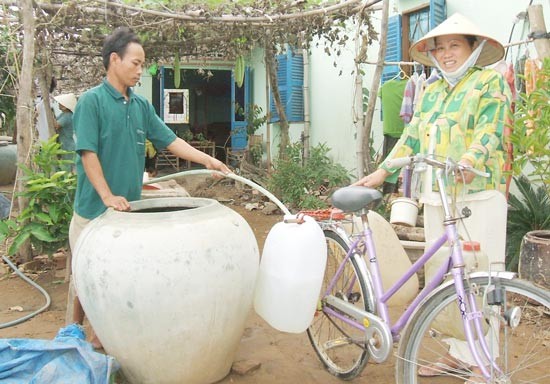 Inhabitants in BInh Dai District in Ben Tre Province buy fresh water for cooking and daily activities (Photo : SGGP)

Worse, most of water supplies in communes in the Mekong delta province of Ben Tre are affected by salinity.
Therefore, Prime Minister Nguyen Tan Dung presided a meeting in Can Tho City today about salinity penetration into Mekong delta region with the participation of related agencies and leaders of Mekong delta.
Speaking at the meeting, Minister of Agriculture and Rural Development Cao Duc Phat stressed that natural disaster is so severe that the entire machinery of state must be mobilized in implementing different measures to reduce production loss and stability for people's living.
Minister Phat said that as of March 7, nearly 139,000 hectare of rice field was damaged. Most damaged provinces include Ca Mau with 49,343 ha; Kien Giang with 34,093 ha; Bac Lieu with 11,456 ha and Ben Tre with 13,844 ha. He fretted that if drought & salinity intrusion continue developing, residents should leave around 500,000 hectare empty because of water shortage.
According to the Southern Institute Of Water Resources Research, early and prolonged salinity penetration has seen in the dry season this year; hence, the provinces should reserve fresh water from river water as streams in the Mekong River is unable to forecast as it depends on reservoirs in the upstream.
Minister Phat proposed government to soon support farmers in Mekong delta to stabilize their living. It is estimated over VND623 billion to be spent to aid inhabitants there. Additionally, each province should receive VND50 billion for building water reservoirs and supplying water for residents' daily activities.
Moreover, VND1,060 billion (US$47,562,200) was invested in construction for future drought and salinity intrusion for the period 2016-2020.