A senior marketing executive from Arsenal paid a visit to the office of Sai Gon Giai Phong newspaper today as part of a campaign to make the famous English football club a household name in Viet Nam.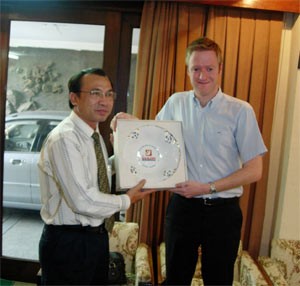 Sai Gon Giai Phong's deputy editor in chief Hoang Van Khang (left) presents a souvenir to Arsenal's senior marketing executive Chris Bevan (Photo: Hoang Uy)
Chris Bevan said he'd found out that the sports edition of Sai Gon Giai Phong was popular throughout the country and wanted to establish a direct communication link from London to the newspaper so that Vietnamese people could keep up to date with the latest news about the club.
Arsenal will also sponsor an unofficial fan club for its Vietnamese followers, hold dozens of promotional events, and open a shop selling only Arsenal merchandise in the near future, Mr. Bevan said.
On behalf of the newspaper, deputy editor-in-chief Hoang Van Khang warmly welcomed his English guest and expressed high hopes of their cooperation being successful.
Sai Gon Giai Phong's Editorial Board and Bevan will meet again in two weeks time to review the progress of Arsenal's marketing campaign in Viet Nam.