Prime Minister Nguyen Tan Dung highlighted the major goals of an ASEAN Community as a focus on people and a friendly approach to the environment at an ASEAN event in Da Nang on August 16.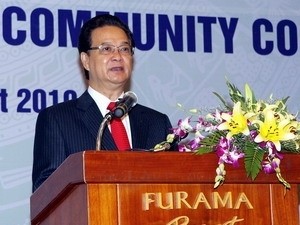 PM Nguyen Tan Dung dilivers speech at the ASEAN Social and Cultural Community held in Da nang on August 16, 2010. (Photo: VNA)
Dung opened the fourth ASEAN Social and Cultural Community (ASCC) meeting by emphasising that ASEAN members have been facilitating socio-cultural cooperation for the establishment of an ASCC in a roadmap towards an ASEAN Community by 2015.
"ASCC should be a community of everlasting unity and solidarity among member nations, and a sharing and caring community which aims to constantly narrow the gap of development (among members) and form a common ASEAN identity.
"ASCC should focus on human beings and constantly improve the living conditions and human development, increase social welfare and ensure social equality and human rights, as well as guarantee sustainable and environmentally-friendly development," he said.
The Vietnamese leader pointed out that the ASCC, though still very young, has actively contributed to the process towards an ASEAN Community, citing the making of a legal framework for the community's operations as well as a roadmap and priorities to fulfil the plan of action.
The ASCC council has worked out solutions to major issues, focusing on healthcare, education, environment and measures to cope with global challenges such as economic crises, climate change, natural disasters, epidemics, the exercising of human rights and human resource development.
Dung said the Vietnamese Government has lauded recent achievements recorded by the ASCC.
The Vietnamese leader called on member nations to make greater efforts and take better measures to realise commitments and priorities written in the ASCC Blueprint.
He said supervision and inspection should be intensified to ensure the effective implementation of the agreements.
Coordination of action among key ASCC agencies, especially the role played the ASCC council, should be promoted while steps should be taken to keep the ASCC master plan on track, Dung urged.
He called on members to take immediate action on an appropriate vehicle capable of mobilising and efficiently managing all resources from both the member nations and partners, focusing on the private sector.
The ASCC meeting in Da Nang , the fourth of its kind so far with the participation of all ten member countries, approved two key declarations which will be submitted to the 17th ASEAN summit scheduled for October. One of them deals with human resource development and know-how on economic recovery and growth and the other is about promoting social welfare for women and children.
The Association of Southeast Asian Nations (ASEAN) groups Brunei , Cambodia , Indonesia , Laos , Malaysia , Myanmar , the Philippines , Singapore , Thailand and Vietnam.