Senior officials in charge of socio-cultural affairs from 10 ASEAN member countries are gathering in Da Nang City of Vietnam for their fourth meeting of the ASEAN Socio-Cultural Community Council (SOCA).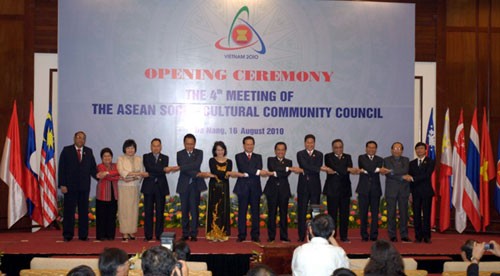 The opening ceremony of the ASEAN Socio-Cultural Community Council in Danang on August 15, 2010

In his opening speech on August 14, Vietnamese Deputy Minister of Labour, War Invalids and Social Affairs Nguyen Thanh Hoa emphasised the significance of the meeting, saying it took place at a time when ASEAN is looking forward to the goal of establishing ASEAN Community by 2015.
To realise this goal, ASEAN is making every effort to develop human resources, increase social welfare for the people, especially women and children, and promote cooperation with its partners to effectively address regional and global challenges, while raising public awareness of ASEAN cultural identity, Hoa said.
ASEAN has made important progress in meeting priority objectives of the ASEAN Socio-Cultural Community (ASCC) in 2010. ASEAN labour ministers adopted a plan of action for the 2010-2015 period in Hanoi recently with a focus on finalising the ASEAN legal framework on labour, fostering healthy labour relations, developing labour markets, strengthening occupational safety and health, developing partnerships, and improving the quality of human resources for ASEAN.
Significant progress has also seen in promoting and protecting the rights of women, children and immigrant workers. The ASEAN Commission on Promotion and Protection of the Rights of Women and Children (ACWC) made its debut in Hanoi in April. The commission is expected to increase the empowerment and engagement of women and children in building the ASEAN community.
The bloc has taken initial steps in coping with global challenges, including climate change and natural disasters. It has issued an ASEAN declaration on climate change and established an ASEAN working group on climate change. At the 21st ASEAN Environmental Ministers Meeting in Hanoi, several solutions were put forth to carry out priority tasks on the environment and respond to climate change.
During the two-day event, the officials will review the implementation of the ASCC Blueprint and exchanged views on priority areas listed in the ASCC Blueprint.
They will make a final review on a draft statement of ASEAN Leaders on human resource development, skills for economic recovery and growth, and a draft statement of ASEAN Leaders on social welfare for women and children. The two drafts will be submitted to ASCC and the upcoming ASEAN Leaders Summit in Hanoi this October for approval.