The birth of the European Union would help the ASEAN Community build a compassionate, sharing society for the people of Southeast Asia by the end of the year.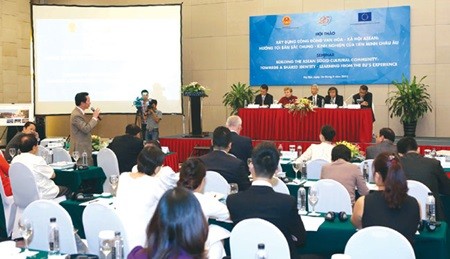 Participants at a seminar on building the ASEAN socio-cultural community held yesterday in Ha Noi. Promoting an identity by fostering greater awareness of the diverse cultures in the region is one of ASEAN's purposes, seminar speakers said. (Photo: VNA/VNS)
This was stated at a seminar on building an ASEAN socio-cultural community held in Ha Noi yesterday.
Towards a shared identity - Learning from EU's experience was the subject of the event, organised by the Ministry of Foreign Affairs and a delegation from the European Union in Viet Nam.
The seminar was told that one of the purposes of ASEAN was to promote an identity by fostering greater awareness of the diverse cultures in the region.
The ASEAN Community is set to be formed on December 31, encompassing the ASEAN Political-Security Community, the ASEAN Economic Community and the ASEAN Socio-Cultural Community.
Delegates said ASEAN was significant in maintaining peace and stability in the Southeast Asian region.
Deputy Minister of Foreign Affairs Le Hoai Trung said the European Union was a successful model for regional integratio in all the fields of economics, politics and society.
The Polish Ambassador, Barbara Szymanowska, said Europe did not have a common language. This created integration barriers and made relationships between people more difficult.
She said the solution was education. By having a chance to study abroad young people learned that even if they were different, they had a lot in common.
"We are united in our diversity," Szymanowska said. "This is the measure of our ambition and our challenge to act together."
Vu Thanh Ha from the Institute for European Studies said culture was an important factor contributing to the formation and community development in ASEAN countries.
ASEAN should focus on this because better understanding would promote the formation of common identity. Differences could only be traversed by building bridges, she said.
Katherine Muller-Marin, UNESCO representative to Viet Nam, said culture defined who people were and the way they lived in harmony with one another.
"Regional identity, then, starts with people's acceptance of their ASEAN cultural citizenship. This has several implications for the concept of ASEAN identity," she said
Panyarak Poolthup, Ambassador of Thailand in Viet Nam, said the ASEAN Community would integrate the region into a community that was politically cohesive, economically integrated, and socially responsible.
"But this is not enough. The ASEAN Community needs to promote people's well-being and nurtures 'we-feeling' among our people," he said.
For ASEAN to forge a common identity, education was a key and young people were the driving force, Panyarak said.
"While we work to cultivate young and able entrepreneurs, scholars and leaders among our children and youth, we must do more to equip them with awareness of each other's culture and identity," he said.
However, he added that ASEAN was still facing significant socio-cultural challenges. Some of the most outstanding challenges were public health, communicable and emerging infectious diseases, extreme poverty, large scale disasters and climate change.
"We need regional connectivity to unlock the potential of ASEAN member states, to narrow development gaps and to augment intra-regional trade and investment, to facilitate the transportation of goods, services and promote people-to-people contact across the border," he added.