The 21st meeting of ASEAN Senior Officials on the Environment (ASOEN 21) opened in Hanoi on August 4, focusing on climate change and environmental protection.
In the first day of the meeting, the officials discussed the environment protection mission.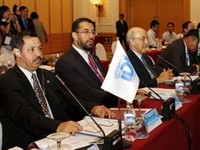 Delegates at the 21th meeting of ASEAN Senior Officials on Environment in Hanoi on August 4. (Photo:VNA)
At the meeting, Rolando A. Inciong, a representative from ASEAN Center for Biodiversity said he is amazed with Vietnam's achievements within the areas of nature preservation and biodiversity.
The Vietnam's exhibition on biodiversity is an important part of its task to preserve nature and biodiversity in Vietnam in particular and in ASEAN countries in general, said Inciong.
To date, Vietnam has four national parks, which were recognized as ASEAN heritage sites, including Chu Mom Ray in Dak Lak Province, Kon Ka Kinh in Gia Lai Province, Hoang Lien in Lao Cai Province and Ba Be in Bac Kan Province.
At ASOEN 21, officials will evaluate the work of ASEAN in managing the maritime environment, nature preservation, biodiversity, building environmentally sustainable cities, water-resource management and environmental education and training.
The ASOEN is held annually according to rotation by ASEAN member nations. This year's meeting was attended by 150 delegates from ASEAN countries and six partners, namely Japan, China, the Republic of Korea, New Zealand, Australia and India.
Vietnam joined the ASOEN in 1996; it is one of the five countries in the world predicted to be hardest hit by climate change.
Environmental protection and fight against climate change are two of the Vietnamese Government's top priorities, said officials.