HANOI, April 8, 2010 (AFP) - Southeast Asian ministers on Thursday fleshed out their vision of a rules-based regional community by signing a protocol to help member nations resolve conflicts.
Foreign ministers from the 10 Association of Southeast Asian Nations (ASEAN) states signed the agreement on dispute settlement mechanisms, ahead of a leaders' summit.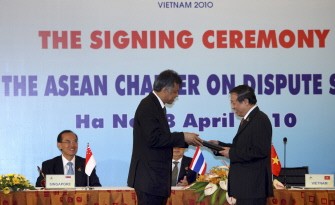 Vietnamese Foreign Minister Pham Gia Khiem (R) hands the protocol to the ASEAN charter on dispute settlement mechanisms signed by all ASEAN foreign ministers to Surin Pitsuwan (2nd L), the ASEAN secretary-general, during a signing ceremony at the 16th ASEAN Summit in Hanoi on April 8, 2010. AFP photo
Focused on economic issues for most of its existence, ASEAN in 2008 adopted a charter committing it to tighter links. The group aims to form by 2015 a community of 600 million people with economic, political and social ties.
While the charter sets out the basic principles of ASEAN, Thursday's protocol and other documents are needed to more clearly define how the vast community will function as a legal entity.
The protocol said ASEAN leaders want to transform the bloc into "a rules-based organisation with practical, efficient and credible mechanisms in place to resolve disputes in an effective and timely manner."
It added that efficient dispute settlement mechanisms would help the bloc prevent "festering conflicts and confrontation" among member states.
The protocol applies to disputes related to ASEAN's charter or other ASEAN documents.
It provides for a variety of means to settle disagreements, including consultation between parties, mediation, and arbitration. Unresolved disputes can be referred to the ASEAN summit.
Scarred by wars in the 1960s and 1970s, Southeast Asian nations have largely lived peacefully together for at least two decades, but smaller-scale conflicts persist.
Cambodia and Thailand have been locked in nationalist tensions and a troop standoff over a disputed temple on their border since July 2008. Soldiers have died on both sides.
There are also conflicting maritime sovereignty claims in the region, and other bilateral disagreements.
Singapore Foreign Minister George Yeo told reporters that the protocol "commits us politically to having a dispute settlement mechanism which will give our agreements concrete reality."
ASEAN secretary general Surin Pitsuwan said he hoped the "rather comprehensive" document would enhance stability and security in the region.
But it will be up to the parties themselves whether to bring an issue for resolution, said Indonesian Foreign Minister Marty Natalegawa.
"When all is said and done, the most important thing is the political will to use or not to use such a mechanism," he said.
Natalegawa said the protocol could not be used to deal with Myanmar, which has long been the bloc's most troublesome issue, because such mechanisms normally apply only between states.
"It won't apply to internal situations," he said.
ASEAN members are divided on how to deal with Myanmar.