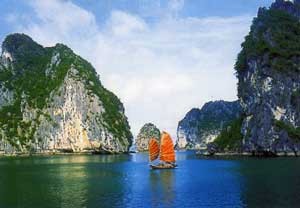 Ha Long Bay is one of the most favorite destinations in Viet Nam
The five sessions will cover such topics as marketing, tourism investment promotion, tourism standards, human resource development and tourism information.
Delegates will discuss tourism promotion programmes aimed at attracting more foreign visitors to ASEAN countries and setting up common tourism service standards.
Standards of tourism-related occupation titles among the ASEAN will also be discussed, with a focus on a draft Memorandum of Understanding (MoU) on Mutual Recognition, which is considered a platform to help accelerate mutual usage of tourism labourers among the ASEAN. The MoU is scheduled to be signed in late 2006.
Concerning tourism investment promotion, participants will touch upon the organisation of tourism investment forums and exchanges of information and experiences in luring infrastructure investment.
Discussion will also focus on the establishment of a tourism brochure.
These sessions, hosted by the Viet Nam Tourism Administration, are parts of the ASEAN cooperation framework.
Source: VNA