Transport links are indispensable for making an "ASEAN community" come true by 2015, especially in the context of member countries bolstering cooperation to revive their economies after the crisis, Vietnamese Prime Minister Nguyen Tan Dung has said.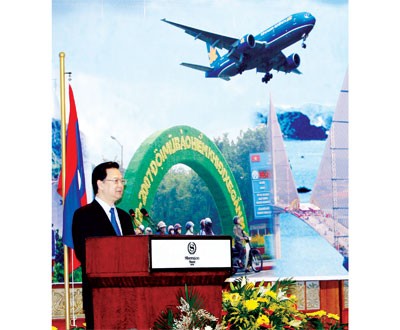 Prime Minister Nguyen Tan Dung speaks at the opening of the 15th ASEAN Transport Ministers Meeting in Hanoi December 10 (Photo: SGGP)
Speaking at the opening of the 15th ASEAN Transport Ministers Meeting in Hanoi December 10, he also described Vietnam's recent achievements, including development of its transport infrastructure.
Vietnam is an active and responsible member that would contribute to building a closer and stronger ASEAN, he said.
He called on greater efforts from other members to create the conditions required to enhance transport links within the region.
He urged the attending transport ministers to put forth initiatives and strategies to develop traffic systems within the bloc as well as measures to implement them.
Minister of Transport Ho Nghia Dung said ASEAN countries have in place a comprehensive legal framework for transport cooperation and linkage.
But problems remain due to institutional differences and socioeconomic barriers within the bloc, he said, making a mention of the development gap between member countries, especially in aviation.
Ministers agreed to sign a protocol to implement the 6th package of Commitments on Air Transport Services.
It is thought to be a giant step towards a unified ASEAN aviation market by 2015.
Eight member nations have already announced they are ready to sign the ASEAN Multilateral Agreement for the Full Liberalization of Air Freight. Indonesia and Malaysia said they need more time to wrap up domestic procedures.
The agreement is expected to be signed in 2010.
On the same day ASEAN marine directors signed an agreement for cooperation in investigating marine accidents.
At the two-day meeting, participants will also deliberate on programs and plans to boost cooperation in air, water, and overland transport to accelerate liberalization of transport services and facilitate transit and cross-border transport between ASEAN members and their partners.