Asian economies will get out of the economic crisis soon and will play a role as a new momentum for development of the world economy, said Prime Minister Nguyen Tan Dung at the Boao Forum for Asia (BFA) in Hainan province, China, on April 18.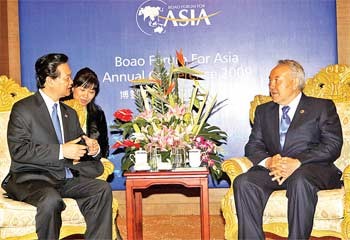 Prime Minister Nguyen Tan Dung (L) talks with Kazakhstan President Nursultan Nazarbayev on the sidelines of BFA. (Photo: SGGP)
Speaking at the three-day event with its theme of "Asia: Managing Beyond Crisis", the PM said Vietnam would closely cooperate with China and other Asian countries to overcome impacts of the on-going global economic recession.
He also called on all Asian countries to join hands in accelerating the regional cooperation process.  
 
The PM believed that Asian traditional values, the macroeconomic strengthened after the East Asia economic crisis a decade ago, and the sound leadership will help Asian countries overcome the crisis soon.
He emphasized that the BFA has really become an essential economic forum in Asia, through which countries exchange experiences, share new ideas and seek effective ways of cooperation for benefits of each country and for the sake of peace, stability, cooperation and development in Asia.
Chinese Prime Minister Wen Jiabao said no countries can itself get rid of the impacts of the global economic crisis. He called on Asian countries, with their potential, strength an similarity, to cooperate and support each other to boost the development of Asian economy, contributing to the recovery of the world economy.
At the BFA, state leaders, businesspeople and leading scholars from Asian countries focus on seeking ways to address challenges facing Asia in the economic crisis and discussing the prospect of the world economy in 2009.
On the same day, Prime Minister Nguyen Tan Dung had a meeting with Kazakhstan President Nursultan Nazarbayev. The two sides discussed measures to strengthen mutually beneficial cooperation between the two countries in every fields, particularly in economics, trade and investment.