The National Assembly on Thursday approved a resolution to expand the city limits of Ha Noi with 92.9 percent of those present voting in favor. The resolution will take effect on August 1.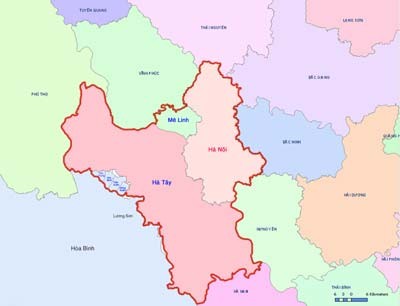 The map of Ha Noi after its expansion
Over 219,000 hectares now in Ha Tay province will be added to Ha Noi, according to the resolution.

Me Linh district in Vinh Phuc province as well as Dong Xuan, Tien Xuan, Yen Binh and Yen Trung communes in Luong Son district, Hoa Binh province will also be added to the city.

The expansion will increase the total area of Ha Noi from 92,000 hectares to nearly 334,500 hectares. The city's population will climb from 3.5 million to over 6.2 million.

Previously, Prime Minister Nguyen Tan Dung delivered a speech in which he said the expansion will give Ha Noi enough space and land to be Viet Nam's political and administrative center, as well as a giant cultural, scientific, educational, economic and international hub.

Also on Thursday, the National Assembly passed a resolution adjusting the boundary between the southern provinces of Binh Phuoc and Dong Nai and between the northern provinces of Ha Tay and Phu Tho.