The National Assembly bemoaned the reckless establishment of low quality universities at a meeting in Hanoi June 7, but a government report said procedures set to ensure educational quality had been followed.
Emphasizing that the country badly needs high quality human resources to meet its social and economic development needs, many representatives urged the assembly to adopt a specific resolution on the issue during the current month-long session.
Deputy Prime Minister Nguyen Thien Nhan said the low quality of tertiary education was a problem that all education ministers had been responsible for since 1975. But he also said there was no need to be excessively pessimistic about the educational situation in Vietnam.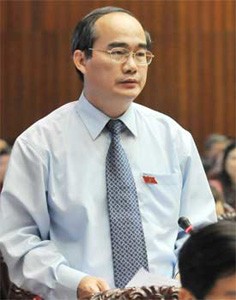 Deputy Prime Minister Nguyen Thien Nhan speaks about education at a National Assembly meeting in Hanoi on June 7 (Photo: SGGP)
The establishment
Many representatives said the Government should decisively shut down or penalize universities that do not meet the required standards three years or more after their establishment.
To improve the quality of training, they also said the Government should set up a verification system for tertiary education quality and tighten regulations on training cooperation.
Deputy Huynh Nghia from Da Nang said the country, as poor as it is, has spent 20 percent of its national budget on education, but still no Vietnamese schools had been ranked among the 200 world's leading universities.
Le Van Cuong from Thanh Hoa province said a recent National Assembly Standing Committee supervisory report had identified problems and points for improvement, but had not pointed out who should be held responsible for the issues.
Mr. Cuong said the responsibility must belong to the Ministry of Education and Training, which he said had not been mentioned in the report.
He also asked the ministry to clarify whether or not it had uncovered any act of solicitation – lobbying through the back door – by individuals or organizations to obtain university establishment licenses.
The report stated that since 2005, the licensing of universities had been reckless and haphazard at best, leading to the establishment of many schools with low training standards that do not meet requirements set by the government.
But a separate Government report recently laid out contradictory findings. It said that since 1998, university licenses had been issued properly, meeting all requirements to ensure training quality.
The report said that the procedures for university establishment had been carried out in accordance with regulations. 
 
On the sidelines of the meeting, Deputy Prime Minister Nguyen Thien Nhan told reporters the assembly's report was accurate.
He said the inspectors from the assembly had directly inspected many  universities across the country and that "the report they issued was very good."   
"Comments provided in the supervisory report are reasonable," he added.
Quality control
Representative Ma Dien Cu from Quang Ngai Province said current curricula were more focused theory than on practice and had not been updated with new knowledge.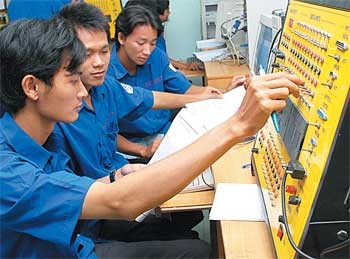 Students in a practice class at the HCMC University of Technology (Photo: SGGP)
"It is unacceptable to use obsolete training programs, many of which date back to 1960s," he stressed, adding that "in many other countries, curricula are changed every five years."
He also said the number of teachers holding doctoral degrees remained low at many universities, and that number was in fact decreasing.
Many universities, including private institutions, not only lack teachers but also have no successors for veteran teachers who are in need of retirement, said assemblyman Nguyen Lan Dung from Dak Lak Province.  
Nguyen Thi Kim Tien, Deputy Minister of Health, said: "The cost of training a PhD is now estimated at VND75 million (US$3,950), but the State budget pays only about VND10 million for such training. Like this, how can we conduct doctoral training programs?"
Pham Phuong Thao, chairwoman of the HCMC People's Council, said the financial mechanism for tertiary education must be changed.  "With an investment of just 200-500 per student, how can we ensure quality training?"
She also said teachers needed better salaries.
"A well-known university like the HCMC University of Technology pays a teacher just VND6 million ($316) per month. With such a rate, how can we recruit good teachers?"