Inappropriate toll booths and traffic congestion were hot issues at Friday's session of the National Assembly's Standing Committee.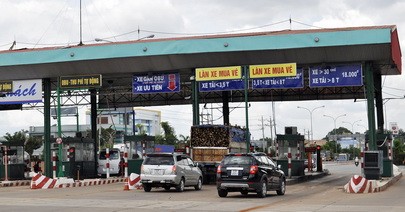 A toll booth on the Binh Duong section of National Highway 1A
The Minister of Transport, Ho Nghia Dung, was grilled over toll booths when an Assembly member from the central province of Phu Yen, Trinh Thi Nga, queried why transporters paid so much money for road fees along National Highway 1A.
According to the member, there are 21 toll booths stationed along National Highway 1A. With a truck paying VND20,000 at every booth, an entire journey from North to South can cost VND1.3 million.
"This is the reason why trucks are always overloaded, they have to compensate for fees they have to pay," Ms. Nga said.
"Meanwhile, according to a plan, there will be a total of 62 toll booths on the highway. This is inappropriate planning and it will bedevil people," she added.
Ms. Nga also said that poor planning was also seen in gaps between stations.
"In some sections two stations are very close and in others they are too far apart," she said.
The head of the NA Committee for Defense and Security, Le Quoc Binh, asked if there were any illegal actions in the rules for fee levels and licenses for establishing toll booths.
"The Law of Road Traffic regulates that planning for toll booths must be approved by the Prime Minister and the law does not have any charter saying that booths are allowed to collect two levels of traffic fees," said Mr. Binh.
Minister Ho Nghia Dung explained that all stations were approved by the PM.
"Some booths were invested from the State budget, while others from private companies carrying out BOT (Build/Own/Transfer) projects", said the minister.
"The cost of investing in a road is very high, it takes 30 or 40 years for investors to get back their capital if they are not allowed to collect higher fees," he explained.
Members from the two biggest cities, Ho Chi Minh City and Hanoi, hauled Minister Dung over the coals when they asked him about sluggish infrastructure works blocking roads and constantly causing traffic snarls.
The Minister failed to give measures to resolve the problem but explained why the problems exist.
He said that traffic infrastructure failed to follow the rate of population increase and a rise in offices, schools and hospitals in city centers.
"The ministry is studying an application of high levels of fines for those breaking traffic laws in order to reduce traffic congestion," he added.
Some of members "invited" the minister to visit road works, called "painful roads" by residents, to understand the difficulties of inhabitants living in road work areas.