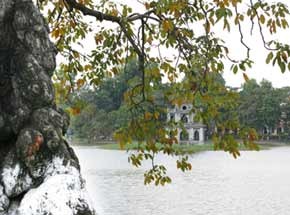 A view of Sword Lake in the heart of Ha Noi
Discussions of the Ha Noi expansion took center stage in this morning's session of the National Assembly.
Many assemblymen said the expansion of the capital was a must and should be done immediately. They said Ha Noi was small currently and the population was of high density, about 13.5 times higher than the country's average rate.
However, Mr. Tran Tien Canh, who represents Ha Nam Province, said the Government's plan for Ha Noi expansion was not detailed enough for National Assembly consideration. He added it was infeasible to put the new administration into operation right in the beginning of the third quarter this year. He suggested the Government should improve its plan and submit to the legislative body in the next sitting.
Mr. Ngo Van Minh, who represents Quang Nam Province, said: "I agree that Ha Noi should be expanded, but is it necessary with up to more than 3,000 square kilometers and 10-12 million residents? This would make Ha Noi the world's second largest capital in the world, just after Tokyo, and four times bigger than Beijing."
The National Assembly expects to make its conclusions of the Ha Noi expansion on May 22.