Deputy Prime Minister Pham Gia Khiem chaired a news meeting with central and local authorities in Da Nang on May 23 to hear reports on the progress of recovering the bodies of victims and determine measures to overcome damages of last week's Typhoon Chanchu.
According to the Ministry of Defense's report, two ships, HQ-629 and 631, are currently at the sea area where fishing boats were hit by the typhoon. 
 
Chinese ships have ceased searching for victims at sea and are returning to Guangzhou. While Taiwan said it has just sent one more ship to continue the search. Taiwan sent one ship on May 18.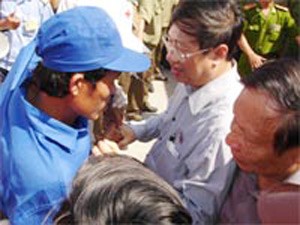 Deputy PM Pham Gia Khiem (white) asks after a survivor of Typhoon Chanchu at the Han River port in Da Nang.
Some experts from the forensic bureau of the Vietnamese military have arrived in Da Nang to help with identification of the victims' bodies by DNA tests. At present, there are two bodies needing DNA tests for identification. 
 
At the requests of the victims' relatives, after completing essential procedures, relatives will be assisted to take the bodies of victims home for burial. Fishermen who are rescued will be taken good care of and give clothes and money to return home straight away after they have recovered. 
 
Speaking at the meeting, Mr. Pham Gia Khiem on behalf of the Government praised the agencies and authorities for their sense of responsibility, especially community spirit of people in victims' localities. 
 
Deputy PM instructed relevant authorities to continue their search and rescue and recovery operations, saying an exact list of dead and missing sailors should be compiled to help the families of the local fishermen. 
 
He said it was important to help stabilize the lives of survivors of the typhoon, saying the government would also provide compensations for those helping with ongoing search and rescue mission. 
Related articles:
Over VND90 Million Donated to Typhoon Victims
President Tran Duc Luong Sends a Message of Condolence to the Typhoon Chanchu's Victims
State President Tran Duc Luong Sends a Message to Thank Chinese President Hu Jintao
China Rescues 330 Vietnamese Fishermen
Sai Gon Giai Phong Newspaper Raises Funds for Typhoon Chanchu Victims
General Secretary Sends Condolences to Typhoon Victims' Families
Central Vietnam Fishermen Return from Storm
Central Viet Nam's Fishermen Affected Most Seriously