At least 90 people have been killed in flooding in central Vietnam sparked by Tropical Storm Mirinae, which slammed into the country after pummelling the Philippines, officials said Wednesday.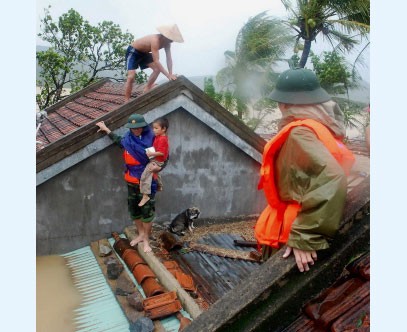 A young boy is rescued by a soldier from the roof of his flooded family home in An Dinh commune, central province of Phu Yen which was hit by tropical storm Mirinae, on November 3, 2009. (Photo VNA)
A further 22 people were reported missing after the storm struck on Monday, destroying hundreds of homes, according to regional officials who asked not to be named and local reports.
Television pictures from the provinces of Phu Yen and Gia Lai, which were among the worst hit regions along with Binh Dinh, showed rescuers in boats helping desperate residents escape some of the worst flooding there in decades.
Water in places reached the rooftops of buildings, where some residents had sought refuge.
"It is the most devastating flooding in more than 30 years in Phu Yen," the national disaster committee said in a statement, after part of the province's system of dykes was overwhelmed.
Vietnamese television reported Wednesday evening that thousands of people were stranded in pagodas, schools and other public buildings in Phu Yen, unable to reach their homes.
Local authorities in the province had asked Hanoi for thousands of instant food sachets as food and drinking water started to run low.
Two thousand soldiers had been deployed to help with the rescue effort.
Mirinae destroyed 900 homes and damaged more than 14,000 others while some 18,000 hectares (44,479 acres) of rice land was flooded, according to a UN report that cited Vietnamese authorities.
More than 50,000 people fled the coastal provinces before the storm, which battered the Philippines as a typhoon, was downgraded to a tropical depression and made landfall late on Monday.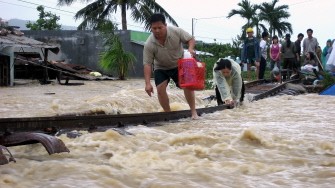 People negotiate a flooded railway in the central Vietnamese province of Binh Dinh on November 2, 2009 after the passage of tropical storm Mirinae which has killed at least four people and left two missing after slamming into coastal central Vietnam, according to the national flood and storm control committee. (Photo: VNA)
Mirinae also killed two people in Vietnam's neighbour Cambodia and left 27 people dead in the Philippines, where almost 16,000 people were living in evacuation centres.
Danish media reported that Queen Margrethe of Denmark's aircraft was forced to make a diversion during a visit to Vietnam after being hit by strong winds.
The queen and her family, who arrived in Vietnam on November 2 for a five-day state visit, were on their way to the old imperial town of Hue.
But the aircraft they were travelling in was unable to land due to strong winds and it was forced to head instead to Da Nang, the Ritzau news agency and the TV2 News channel reported.
Queen Margrethe, Prince Consort Henrik and their children, Crown Prince Henrik and his wife Princess Mary then continued their journey to Hue by bus.
Vietnam and the Philippines are frequently hit by tropical storms and flooding at this time of year and both were hit hard by Typhoon Ketsana in September.
Ketsana caused one of communist Vietnam's worst disasters in recent years, leaving more than 170 dead and hundreds injured.
It caused devastating floods, inundated hundreds of thousands of homes and damaged tens of thousands of hectares of rice and other crops.