At least 14 have people died and more than 30 have been injured following floods caused by heavy rain in central Viet Nam, the national flood and storm control committee said on Wednesday.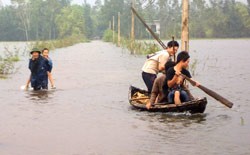 Le Thuy district of Quang Binh province is flooded on Oct. 31, 2007.
More than 15,000 people have been evacuated from the worst-hit areas, where some 7,000 houses have been flooded and over 200 buildings destroyed.
The national meteorologist service said between 32 centimeters (13 inches) and 98 centimeters (39 inches) of rain had fallen on the area during the past four days.
This is the third time Viet Nam has been hit by floods this month.
In early October, Typhoon Lekima claimed the lives of over 100 people, also destroying rice crops estimated at some $186 million.