HANOI, July 24, 2009 (AFP) - Australia Friday pledged 12 million dollars (9.8 million US) to help Vietnam adjust after joining the WTO, Canberra's trade minister said Friday, adding that the countries sought closer economic ties.
After talks with Vietnam officials Simon Crean said the money was part of a multilateral programme focused on the "capacity-building needs" of Vietnam, which joined the World Trade Organization (WTO) in 2007.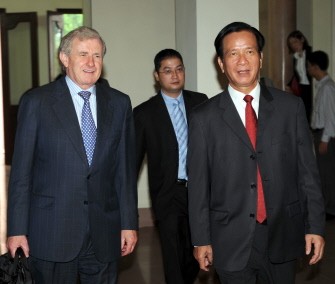 Visiting Australian Minister for Trade Simon Crean (L) and Vietnamese Minister for Plan and Investment Vo Hong Phuc (R) walk in a meeting room to attend an annual joint-meeting on trade and economics held in Hanoi on July 24, 2009 (AFP photo)
WTO membership commits the communist nation to the global economic mainstream and international trading system.
The aid is aimed at, among other things, helping to strengthen Vietnam's market economy and assist the rural sector to adjust to the changes, an Australian news release said.
"It's one thing to open markets. It's another to ensure that businesses are competitive enough to take advantage of that market opening," Crean said after talks with Vietnam's Minister for Planning and Investment, Vo Hong Phuc.
According to Australian government figures last year, Australia was Vietnam's 16th largest investor and two-way trade had grown by about 20 per cent annually over five years to 6.9 billion Australian dollars.
"We are very impressed with the way in which the trade and investment relationship has grown over recent years but we can do a lot more," Crean said, adding both sides are resolved to put in place the framework for closer ties.
Crean is accompanied on his trip by an Australian business delegation and was to continue his visit in the southern commercial capital of Ho Chi Minh City at the weekend.
Vietnam is a member of the Association of Southeast Asian Nations (ASEAN) which signed in February a major free trade pact with Australia and New Zealand.
Related article
Australian Trade Minister to visit Vietnam