The Australian Consul-General John McAnulty launched a competition to design a logo representing the 40th anniversary of diplomatic relations between Australia and Vietnam in 2013 at the Fine Arts University on October 4 in Ho Chi Minh City.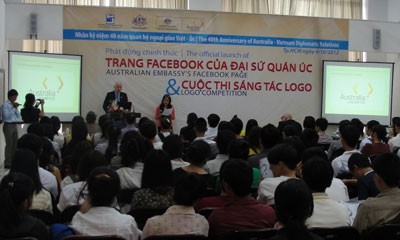 At the launch
Two days before, Australian Ambassador Hugh Borrowman at the University of Industrial Fine Arts in Hanoi. Mr Borrowman also launched the new 'Australia in Vietnam' Facebook page.
The logo will be used at Australian Government events and in publications marking the anniversary.
Through the logo competition, which will run from 2 October to 30 November, the Embassy seeks creative designs that reflect the key message that Australia and Vietnam have a 40-year partnership marked by friendship and cooperation in many areas, which continues to grow and has a bright future. 
The competition winner will receive an iPad 3, and the most 'liked' logo on Facebook will receive an iPod. 
The Facebook page will help the Embassy share information about events it's organising in Vietnam to celebrate the  anniversary, and will provide information about other Australian Government and Australian Embassy activities. 
This will include information about scholarships the Australian Government is providing to Vietnamese students, high level visits, Australia's aid program in Vietnam, other Australian Government grants programs, cooperation between Australia and Vietnam in trade, defence, education, policing and agricultural research.
The Facebook page will also share the experiences of Vietnamese people living in Australia.  It will keep viewers up to date on developments within Australia that are relevant to Vietnam, and provide information about places in Australia and Australian culture.
Logo competition rules can be found on the Consulate's website: http://www.hcmc.vietnam.embassy.gov.au. To 'like' the 'Australia in Vietnam' Facebook page, please visit: http://www.facebook.com/AustralianEmbassyVietnam.