Australian Minister for Trade Simon Crean will visit Vietnam on July 23-26 to enhance trade and economic ties, the Australian Embassy announced Monday.
Mr. Crean's visit to Singapore on July 21-22 and Vietnam also aims to pursue Australia's trade and economic interests at a range of ministerial and other high level meetings, the embassy said in a statement.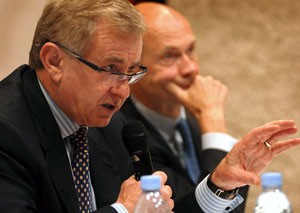 Australian Trade Minister Simon Crean (L) and WTO Director General Pascal Lamy in a press conference following an informal gathering of trade ministers at the Australian Embassy in Paris on June 25, 2009 (Photo: trademinister.gov.au)
In Hanoi, Mr. Crean will co-chair the 8th Joint Trade and Economic Cooperation Committee (JTECC) with the Vietnamese Minister of Planning and Investment Vo Hong Phuc on July 24, according to the statement. The meeting will discuss key sectors in the two countries' bilateral relationship: education and training, infrastructure and environmental management, financial services, energy, oil and gas, and agribusiness.
"As we progress towards implementation of the ASEAN-Australia-New Zealand Free Trade Agreement, I look forward to discussing its practical contribution to the bilateral trade and investment relationship with Vietnam," Mr. Crean said in the statement.
The Australian Trade Minister will be accompanied to Vietnam by a business delegation, and will also visit Ho Chi Minh City on July 25-26. He is scheduled to visit two companies in Ba Ria-Vung Tau Province, which is next to the city.
The ASEAN-Australia-New Zealand Free Trade Agreement (AANZFTA), which was signed in February this year in Thailand, is the largest FTA Australia has concluded, according to Mr. Graeme Swift, Australian Consul General in Ho Chi Minh City.
By the time the agreement was signed, Australia had recognized Vietnam's market economy status. The decision to grant this status was made in the context of the AANZFTA negotiations. The recognition means that, in any future anti-dumping investigations by Australia in relation to imports from Vietnam, Vietnam will be subject to the same assessment process as other WTO members. 
It is expected that AANZFTA will enter into force no later than January 2010, once a number of AANZFTA parties have completed their national ratification processes. Vietnam has not ratified it yet.
Once in force, the FTA will reduce or eliminate tariffs across a region that is home to 600 million people, with an estimated GDP of US$2.7 trillion.
 
Australia and Vietnam stand to gain from the agreement across many sectors, including exports of agricultural products, industrial goods and services.
Under the agreement, almost 90 per cent of tariff lines covering 96 percent of Australia's trade with Vietnam will be tariff-free by 2020.
Two-way trade between Australia and Vietnam grew an average of 22 per cent a year over the last five years, reaching A$8 billion in 2007-08, according to the Australian Consulate General. Two-way trade services in 2007-08 totaled A$1.05 billion.
Monday's Australian Embassy statement said while in Singapore, Australian Trade Minister Crean will attend the APEC Meeting of Ministers Responsible for Trade and the OECD Roundtable on Sustainable Development.
APEC's Meeting of Ministers Responsible for Trade in Singapore on 21-22 July will be the largest formal meeting of Trade Ministers so far this year.
At the OECD Roundtable on Sustainable Development on July 23, Mr. Crean will participate in an exchange of views between ministers, private sector and key climate change and trade experts on what can be done from an economic and trade perspective to meet the challenge of climate change, said the statement.

Related article
Australia-Vietnam trade to grow strongly: Aussie senior official