Controlling the trading and transportation of smuggled tobacco products in the local tobacco market has to be given top priority, according to the Ministry of Industry and Trade (MOIT).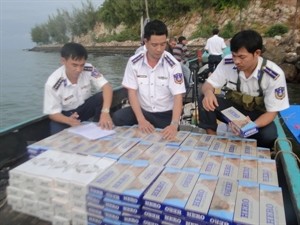 Illustrative image (Source: VNA)
Nguyen Trong Tin, Deputy Director of the ministry's Market Management Department, said at an online meeting on market management this week that the trading and transportation of smuggled tobacco products in the country is a complicated process.
He added that such practices are common mainly in the border provinces located in southern and central Vietnam, including Quang Tri, Long An, An Giang, as well as Dong Thap, Kien Giang and Tay Ninh.
It is from these provinces that smuggled tobacco products are transported to markets in Ho Chi Minh City and other large cities nationwide, he pointed out.
The hotbed for tobacco product smuggling is in the border areas of the Long An Province, while Hanoi and HCM City are the largest markets for trading smuggled tobacco products, Tin noted.
The smuggling of tobacco has grown due to the availability of cheaper tobacco at VND3,500 to VND12,000 per pack, compared with the more expensive local tobacco products.
This is because the smuggled tobacco products' cost does not take into account the special consumption tax of 65 percent and a value-added tax of 10 percent borne by local tobacco products.
Therefore, the Government had issued a directive in September 2014 to fight the growing incidence of such smuggling.
Since the directive was issued, the department has seized 873,399 packs of tobacco; accounting for 43.67 percent of the total packs seized in all of 2014 and collected VND10.2 billion (US$481,100) from fines imposed in smuggling cases.
Minister Vu Huy Hoang said the fight against the illegal trading and transportation of smuggled tobacco this year is expected to encounter further challenges, due to which the department is promoting certain activities to fight against the smuggling of tobacco products.
The department also needs to forge closer ties with relevant offices, such as border military, taxation, sea police and customs at the central to provincial/city level to fight tobacco smuggling activities this year, Hoang said.
The smuggling of tobacco will increase further and has to be jointly dealt by the market and society, he suggested.
Tin said market forces in cities and provinces that trade in large volumes of smuggled tobacco products, including Hanoi, HCM City, Da Nang, along with Can Tho and Hai Phong, will monitor enterprises, business households, tobacco shops and services for the sale of any smuggled tobacco products.
Vu Van Cuong, Chairman of the Vietnam Tobacco Association, said the smuggling of tobacco is highly profitable as Vietnam has implemented strict regulations for made-in-Vietnam tobacco production, which has indirectly created conditions that are conducive to the growth of smuggling activities.
The smuggled tobacco volume accounts for 30 percent of the local tobacco market and resulted in a 20 percent reduction in the consumption of domestic tobacco products, Cuong pointed out.
According to a government circular dated December 7, 2012, persons found transporting 1,500 packs of smuggled tobacco are liable for criminal prosecution, he said. Therefore, smugglers only transport fewer than 1,500 packs to avoid criminal prosecution.
As a result, the association has proposed that the State should decrease the number of packs of illegally imported tobacco as the basis for criminal prosecution from 1,500 to 500, he said.
Meanwhile, Peter Henriques, Director of British American Tobacco, appreciated the directive issued by the government to discourage tobacco smuggling.
He expects State offices to actively fight against tobacco smuggling in order to curb smuggling and help control tax evasion and budget losses.