The Prime Minister, Nguyen Tan Dung, asked the Ministry of Public Security to review and report on firecracker burns and traffic accidents during Tet so that he can punish relevant Heads.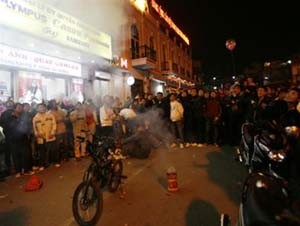 People burning firecrackers in Dinh Tien Hoang Street, Ha Noi on New Year's Eve, 25 January. Heads of local authorities will be held to account for firecrakers burns  and traffic incidents. (Photo: Tuoi Tre)
The PM was responding to press reports about people being burnt with firecrackers in many areas. Many people were also selling or transporting Chinese-made firecrackers.
The PM also assigned the Ministry of Culture, Sports and Tourism to control the burning and releasing of lanterns - a kind of paper light and released into the sky – as they can easily burst into flames.
According to the Government Office, there were 294 traffic incidents in the country from January 25 to 29, a fall of 20 percent over the same period last year.
205 people were killed with 246 injured, a reduction of six percent and 26 percent respectively.
There were seven waterway incidents during the same period, killing 46 people and injuring 39. In the worst incident, a ferry sank on the Gianh River, Quang Binh Province, killing 42 passengers.