Authorities in Tay Tra District in the central province of Quang Ngai will build a house and provide other essential necessities to a father and son duo, who have lived in complete isolation for the last 40 years in a remote jungle in the district.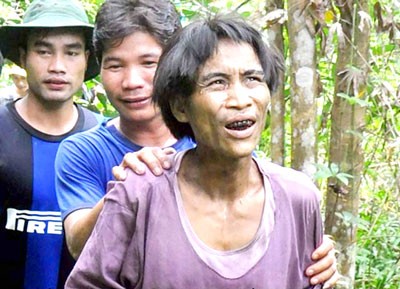 Ho Van Loan (in violet) was surprised at his surroundings when he came out of the forest (Photo: SGGP)
Ho Van Thanh, 81, and his son, Ho Van Loan, 41, belong to the Kor Ethnic Minority Group. For the last 40 years they have been living in the forest, and Loan can barely speak or understand even a few words of their dialect.
Earlier, a mission team had discovered a small hut built with branches of trees on top of Apon Mountain, with the father and son living there. The team brought them back to civilization, and later learnt of their life story.
Thanh's relative recalled that Thanh used to be a soldier in 1972. He was stationed near his house, when one day, a mine explosion occurred, and Thanh rushed to his house which was by then totally destroyed.
The explosion killed Thanh's mother and two of his three children.
In deep shock, Thanh took his remaining son, nearly two years old at that time, and ran away into the jungle. He and his son have since lived in isolation, without contact with humans.
They wore loincloths made of tree barks and their daily food comprised of fruits and manioc found in the forest. They made many scimitars, arrows, spike-traps to hunt animals.
At present, Thanh's health condition is very weak and the local health agency will be providing him intensive care.