The Government Committee for Religious Affairs said it would continue facilitating religious practices of Protestant organizations in Vietnam. Committee members made the statement during a Christmas celebration with representatives of eight Protestant sects in Ho Chi Minh City on December 22.
Speaking at the event, deputy head of the Committee Nguyen Thanh Xuan said: "Since the Ordinance on Belief and Religion took effect five years ago, 10 Protestant organizations have been certified to operate in Vietnam. Authorities at all levels have assisted them in operating in accordance with the law."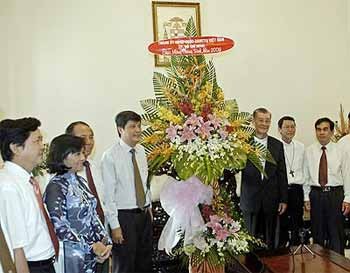 A HCM City delegation visits the Archbishop's Office on December 22 to celebrate the Christmas season. (Photo: VNA)
The Protestant representatives thanked the Government for its support of their religious activities.
In addition to efforts aimed at building and developing Protestant communities, Protestant followers have actively taken part in patriotic movements and social and charitable activities contributing to the country's development, they said.
The Committee later visited the Southern General Confederation of the Evangelical Church of Vietnam and the Archbishop's Office in the city.
The same day, a city delegation including the Party Committee, People's Committee, People's Council, and Fatherland Front Committee also visited the Archbishop's Office.
The delegation, led by Standing Deputy Secretary of the Party Committee, Nguyen Van Dua, was received by Catholic Cardinal Jean-Baptiste Pham Minh Man, the Archbishop of HCM City.
Cardinal Man briefed guests on the recent visit by President Nguyen Minh Triet to the Vatican, where he met Pope Benedict XVI.
The Pope and other senior Vatican dignitaries highly valued the Vietnamese Government's religious freedom policy that has created favorable conditions for the development of religions, including Catholicism, in the country, said Cardinal Man.
The Vatican reiterated its view that it is necessary to adopt a "neighborly" relationship in settling differences of opinions, if any, between religions as well as between religions and the government in a country, the Archbishop said.
This view is on par with that of the Vietnamese Government, which attaches importance to religious activities, considering them a force that helps boost the country's development, he added.
Mr. Dua informed Cardinal Man about the city's social and economic achievements this year. He said the lives of city people, including Catholics, have improved remarkably, and that religious tolerance has increasingly strengthened.
City-based religious people, whatever their religion, have the common goal of building a happy life in their community, he added.
On behalf of city authorities, Mr. Dua sent his regards to all Catholic dignitaries and followers, wishing them a joyful and happy Christmas season.