Director of Vietnam Dairy Association Prof. Tran Quang Trung said that the 2017 dairy fair was held for the first time in Vietnam by the Vietnam Dairy Association (VDA) and the Vietnam Advertisement & Fair Exhibition Joint Stock Company (VIETFAIR) which is scheduled to run till June 3.
The fair is considered as an important opportunity to promote the country's trade cooperation and connection between local and foreign enterprises; raise competitive ability for Vietnam's milk industry.
Furtherly, the exhibition is also to help people clearly understand important role of milk products for health.
The ceremonies marking World Milk Day and International Children's Day will be taken place during the fair.
Specialized seminars on dairy benefit, sterilization technology in processing of dairy products, high- tech application in feed requirements for dairy cows; activities to support finance for dairy firms and dairy cow farmers will be launched.
Deputy Director of the National Institute of Nutrition Dr. Le Bach Mai said that fresh milk and dairy products are very important foods to provide essential nutrients for human development.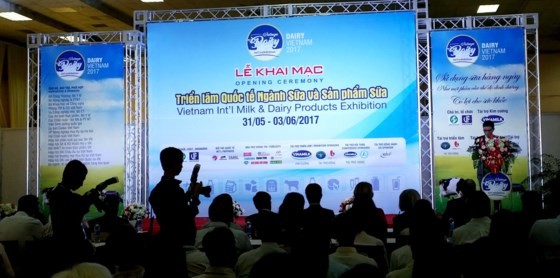 Vietnam International and dairy products exhibition has taken place in Hanoi from May 31 to June 3
Nutritional imbalance as well as lacking of calcium will affect to the development of height and physical body. In fact, the calcium in dairy products is very good for the human body and bone but it has not often used by the Vietnamese in previous years.
The National Institute of Nutrition (NIN) showed that Vietnamese people currently drink 12 litters of milk a year. The average milk consumption in Vietnam has been less than half of that in Thailand, one- third of Singapore and actually far less than milk consumption of the European people.
In order to develop of Vietnam's dairy process industry, the country would produce 2.6 billion liters of milk with its consumption of 27 litters annually per person, its export turnover of US$ 120- 130 million by 2020.
By 2025, Vietnam will provide 3.4 billion liters of milk with a consumption of 34 litters a person a year and its export turnover of up to US$ 150- 200 million.
Currently, the Southeast Asian country has just produced around two billion liters of milk with an average consumption of 21 liters per person per year.
Meanwhile, the Ministry of Industry and Trade reported that Vietnam's beer consumption output in 2016 was 3.788 billion liters. The average Vietnamese drank 42 liters of beer in 2016.
The target for Vietnam's beer and alcohol industry by 2025 and a vision to 2035 will be to produce around 4.1 billion liters of beer by 2020, and increase up to 4.6 liters by 2025.
Tags: