Thirty-four out of the 160 odd projects received pertaining to Vietnam's Anti-Corruption Initiative 2011 Program were acknowledged and honored at an awards ceremony in Hanoi on August 17.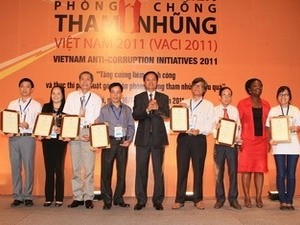 Heads of Government and the World Bank stand with the award winners (Source: VNA)
The program entitled "Strengthen public integrity and enforce effective anti-corruption laws" is meant to actively reduce corrupt behavior and bring about greater transparency, so as to improve the living environment for all.

The organizers received 160 projects from different sectors like organizations, non-government organizations, educational institutes, private enterprises and anti-corruption bodies. More interest was seen in combating corruption in fields like healthcare, education, administration and recruitment.

Some winning projects suggested raising awareness of the legal system for migrant workers to save them from exploitation in the hands of the Vien Dong Investment and Advertising Joint Stock Company; higher integrity and more co-operation from the management board of Hi-Tech Zone in Ho Chi Minh City and knowledge of the legal system in Khmer ethnic minority farmers in the Mekong delta province of An Giang.

Each project will receive a maximum prize of VND290 million and the total value of the awards is VND9.2 billion (US$446,000).

The program was jointly held by the Government and the World Bank, sponsored by the Australian Agency for International Development. The Government plans to hold this program every alternate year.
Huynh Phong Tranh represented the Government while Victoria Kwakwa, Country Director in Vietnam, represented the World Bank.