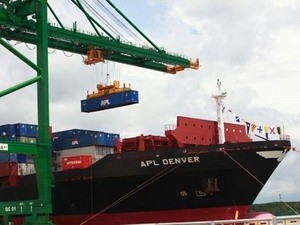 Container handling at a port in Ba Ria-Vung Tau Province (Photo: Vietnam News Agency)
One of the key tasks of the southern province of Ba Ria-Vung Tau in the next five years is to become a deep seaport transshipment centre for the region, said Prime Minister Nguyen Tan Dung.
PM Dung on August 9 held a working session with authorities of Ba Ria-Vung Tau, which houses enterprises of spearhead industries, including oil and gas, fertilizer, electricity and steel, and is a main gateway to the southern key economic zone.
He suggested that the locality fully utilize its advantages in seaports for developing its hi-tech industries and tourism and maximizing value-added farm produce to attain sustainable growth.
The province needs to coordinate with other ministries and agencies to screen the planning of its seaport system to ensure that it is well connected with infrastructural network, PM Dung said.
He urged the locality to focus on building transport infrastructure, including roads and airport, pledging Government help with estimating investments necessary for the work.
Ba Ria-Vung Tau should pay due attention to the training of human resources in rural areas, the PM said, advising it to cut the proportion of the workforce engaged in agriculture as 50 percent of these workers contributed to only 5 percent of the provincial GDP.
In 2006-2010, the locality registered an average annual GDP growth rate of 17 percent and a 2.28 times rise in average per capita income.
Industries and services continue to provide up to 95 percent of the province's economic structure, the number of trained workers reached more than 55 percent of its workforce, and the poverty rate was reduced strikingly to stand at 0.5 percent.
At the working session, PM Dung and leaders from the Government ministries and sectors addressed the province's proposals regarding the planning of industrial zones, investments in the offshore district of Con Dao, the development of Vung Tau City, the construction of a transport system linking with the Cai Mep-Thi Vai deep seaport, and other transport infrastructure projects.
The same day, PM Dung made a tour of the construction sites of the Cai Mep-Thi Vai deep seaport and the Long Son Oil Refinery Complex.