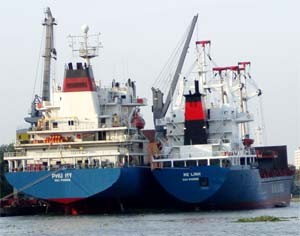 Ships dock at Ba Son Shipyard for maintenance (Photo: Tuong Thuy)
Ho Chi Minh City-based Ba Son Shipyard started building a seaworthy cargo ship in accordance with international standards on December 21.
The 6,000-ton ship, 103 meters long and 17 meters wide, will be finished in 12 months.
This if the first time the shipyard builds a large cargo ship to international standards. The vessel will be delivered to the ship owner, Phuong Nam Company, before the end of December 2006.