Bac Ninh Province's Police announced Saturday that a man had used explosive to cause a motorcycle blast that killed a pregnant mother and her four-year-old daughter on Dec. 1, 2011 in the northern province.
At a press conference on Saturday afternoon, the police said the killer was Nguyen Duc Tiem, born in 1978 in Hai Duong Province, also in northern Vietnam.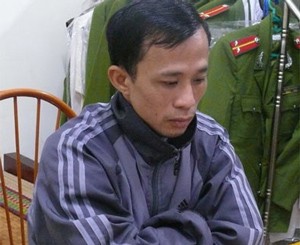 Nguyen Duc Tiem at Bac Ninh Police Department (Source: police)
Bac Ninh Police Department director Dang Nhu Loi said Tiem was the husband of Nguyen Thi Hoi, who is a younger sister of Mr. Nguyen Van Que, whose pregnant wife and four-year-old daughter were killed in the blast.
Police have arrested the killer, whose house is next to the victims' house in Bac Ninh Province.
According to the police, the reason of the murder is some disputes between the killer's family and the victims' family, and he took revenged by that way.
At around 7 AM on Dec. 1, 2011, Que's pregnant wife used a Honda Super Dream motorcycle to take her four-year-old daughter to kindergarten. Just after she started the engine and rode the bike for a few meters, the motorcycle exploded up, all the bike and the two people were on fire. The mother died after a few hours and the daughter died 12 days later at a hospital.
According to the police, Tiem said he put explosive onto the motorbike the night before the blast. After the blast, he took Mr. Que to hospital to take care of the seriously injured daughter.
Bac Ninh Police said the clues for them to track down the murderer included an explosive trace and the fact that Tiem did not rush to the blast site to save the victims' lives.
The police added they found out that the man caused another serious murder in 2010 in Kim Mon District in his home province of Hai Duong. He suspected that his wife had some love affairs with his friend Trung, a worker at Hoang Thach Cement Factory, and installed explosive into Trung's Suzuki motorcycle.
On June 18, 2010, when Trung started the engine, the motorcycle exploded. Trung was seriously wounded, lost his left leg. Kim Mon District Police have investigated the case but there were no findings.
According to the police, the killer is a graduate with his major being a foreign language. No criminal records of him were filed before, and he was working at a hotel in Bac Ninh City before his arrest.