Vietnamese Prime Minister (PM) Nguyen Xuan Phuc visited and worked at Yen Phong Industrial Park of Samsung Electronics Vietnam Production Complex (SEV) in Bac Ninh province yesterday morning, expecting the province to become the Asian's largest electric production center .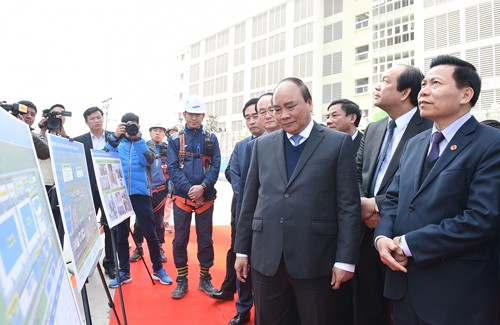 PM Nguyen Xuan Phuc visits Samsung Display Factory No 3 in the northern province of Bac Ninh.
Speaking at the working, PM Nguyen Xuan Phuc said that the Korean electronics group has strongly operated and developed in Vietnam, and congratulated its advantageous investment results during previous year.
Besides that, he highly appreciated an establishment of Samsung Vietnam Software Research and Development Center, and the PM hoped that Samsung will continue expanding its investment projects in the country in the upcoming time.
The PM promissed to continue supporting and creating the best investment conditions for the Korean electric group in Vietnam, ensuring political stabilization and human resource s development.
He also suggested Samsung to continue maintaining investment pledge in the high- tech industrial field, attracting many Vietnamese businesses to join its production, and early getting export target at over US$ 50 billion this year.
PM Nguyen Xuan Phuc required the province  to ensure security, creating favorable business conditions for foreign enterprises, including the Korean firm.
Samsung has set up six factories in Vietnam with total investment capital of US$ 15 billion, including three factories in Bac Ninh.
The factories created jobs for 136.7 00 workers. By the end of last year, Samsung Vietnam exported its electric products to 52 countries and territories. Total export turnover reached US$ 40 billion.
Vietnam Samsung Display Company is a member of Samsung Electronics Vietnam Production Complex which is suggesting capital increase up to US$ 2.5 billion for three factories in Bac Ninh.
Leaders of Samsung said that the number of Vietnamese labour will increase to 150,000 people by the end of this year, export turnover will reach US$ 50 billion; the rate of domestic production will make up 50 percent of Samsung Vietnam products.