Residents of northern Bach Long Vi Island District off the coast of Hai Phong City have begun repairing damaged homes and infrastructure after Typhoon Parma touched down October 13.  Life will remain difficult for some time, however, said Cao Xuan Lien, chairman of the Bach Long Vi District People's Committee.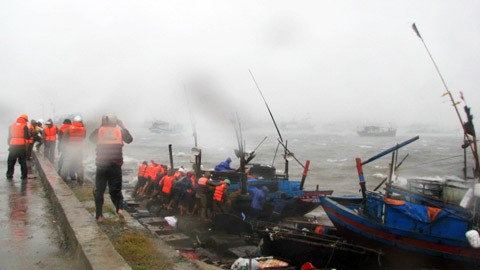 seven people are injured and 18 fishing boats are wrecked in the Typhoon Parma storm on October 13. (Photo: Vietnamnet)
Lien said seven people were injured in the storm including one seriously. Numerous houses suffered damage while many goods and belongings were submerged under water.
Following the storm, the district's rescue team transported injured residents to mainland hospitals on October 14.
The storm brought 14-15 level winds that felled trees and a wind-powered electric pole, the only one on the island, leaving residents without power.
Communication has been restored with the mainland though electrical signals remain weak and unstable, while locals are still without power. 
Lien said that 75 percent of the island's roofs had blown off from schools, offices and homes. Hundreds of tons of food had been lost and 18 fishing boats were wrecked.
As the storm's course had changed unexpectedly, district authorities were not able to prepare adequately, Lien added.
Bach Long Vi Island is situated in the center of the Gulf of Tonkin, between 200 degrees 07'35' north latitude and 107 degrees 42'20' east longitude. It is located 133 km from northern Hai Phong City.