Speaking at the ongoing National Assembly meeting, Nguyen Van Giau, Chairman of the Economics Committee, said that businesses still find it difficult to access loans and the actual implementation of the economic restructuring process has not yielded clear results.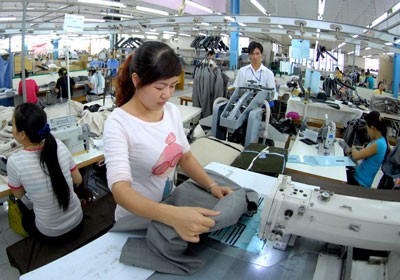 Slow economy continues to be a matter of high concern at the NA session. In images: Workers in Nha Be Garment Joint Stock Corporation (Photo: Cao Thang -SGGP)
Presenting an evaluation report on the implementation of the plan for socio-economic development in 2012 and 2013, Chairman Giau stated that the Economics Committee has requested the Government to analyze all the difficulties, and evaluate signs of the sluggish economy and the banking system.
The trade deficit has increased continuously, causing worry for the sharply declining economy. The banking system is facing bad debts and inflation is eroding macroeconomic sustainability.
Although the year will end in December, banks in Ho Chi Minh City are not exactly scrambling to give away loans to achieve their credit targets since they are wary of bad-debt risks.
The banking sector's growth target has been lowered to a modest 8-10 percent this year, but many banks seem unlikely to achieve it.
Many of them may have announced preferential credit packages but their sights are set firmly on risk management.
The City Housing Development Bank (HDBank) for instance, is offering personal loans at just 8.6 percent interest, and the Vietnam Joint Stock Commercial Bank for Industry and Trade (Vietcombank) is offering credit to companies involved in exports at 9 percent.
Many others have similar schemes, but actual lending has been sluggish.
According to latest figures, deposits are up by nearly 11 percent from last year, but loans have risen by a measly 2.5 percent.
Saigon Thuong Tin Joint Stock Commercial Bank (Sacombank) was allowed by the Central Bank to grow credit at 17 percent this year, but the increase has only been 8 percent so far. Sacombank does have several credit schemes on easy terms and low interest rates.
Tran Phuong Binh, director general of the Dong A Joint Stock Commercial Bank, said the bank is not focused on achieving the credit growth target, but rather on sustainable development.
"The bank's top priority is also to restructure loans to reduce bad debts," he said.
Independent analysts said commercial banks have freed up credits compared with a few months back, and evidence pointed to the fact that they have earmarked large sums to lend to the property sector, which until recently was a no-go area for many. But they are more focused than before on credit risk, they said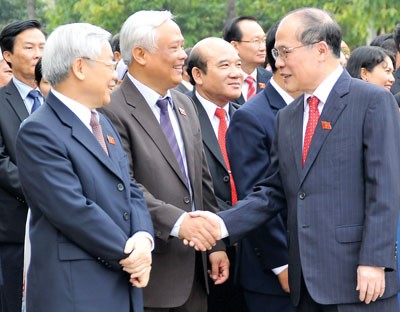 National Assembly Chairman Nguyen Sinh Hung (R) shakes hand with other NA deputies before the opening session (Photo: Minh Dien-SGGP)
Chairman Giau stressed that the potential risk of inflation remains. "The combination of bad management, increase in market prices in some areas, especially in September, and consumer price index increase due to increase in petrol prices, service fees, health care and education. High inflation may return by the end of the year and in 2013", said the Chairman.
The Government should therefore continue to prioritize inflation control and adjust prices of some commodities, he added.
A number of key indicators in 2013 show economic growth of about 5.5 percent; consumer price growth of about 8 percent; trade deficit of about 8 percent; budget deficit not more than 4.8 percent of GDP; jobs for about 1.6 million people; and national poverty rate fall by 2 percent.