Two more scooters and two automobiles reportedly burst into flames during the last two days, in various parts of the country.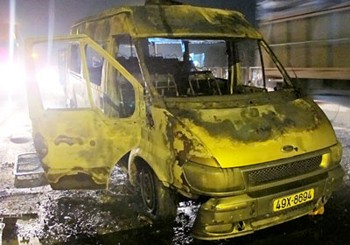 The burnt down 16 seater mini-van in Dong Nai Province (Photo: SGGP)
The first scooter, a SH Honda brand, suddenly flared while travelling to 3 Thang 2-Nguyen Chi Thanh Crossroad in District 11 in Ho Chi Minh City on Thursday night.
The scooter was being driven by a man at that time with a female pillion rider, when the driver felt the bike heating up. He stopped to check but it abruptly burst into flames, and local residents rushed to help him douse the fire.
Earlier he had stopped to fill gasoline at the Cho Lon Petrol Station.
On the same day at noon, another SH Honda scooter was travelling to Chua Boc-Tay Son Crossroad in Hanoi when it began to give off smoke from under the saddle, from the boot. Some local people helped stamp out the fire, which burnt parts of the vehicle.
Driver Nguyen Tien Hung said that before the incident, he had stopped to fill gas at the Nam Dong Petrol Station, one of the biggest filling stations in Hanoi.
A Kia Morning car travelling on Highway 5 in Hong Bang District of Hai Phong City caught fire at its rear end, on Friday morning. Tran Thi Diem Huong who was driving the car at that time quickly tried to slow down speed and move to the side of the road.
Soon as she did that, a loud blast was heard from the rear of the car and a fire began to engulf the entire car. Huong was fortunate to escape unhurt.
The fire burnt down the car altogether, with all its papers, personal belongings and about VND40 million (US$1,900) in cash.
At 6pm on the same day, a 16 seater Ford mini-van, travelling on Highway 1A in Tan Hiep Ward of Bien Hoa City in the southern province of Dong Nai, abruptly went up in flames.
According to passengers in the mini-van, some men sitting behind the driver seat had been smoking and cigarette ash dropped on the floor board, causing the fire. Passengers had to break open the doors to escape.
Three passengers suffered burns and had to be rushed to hospital for emergency treatment. The incident occurred during peak hours causing a traffic jam on Highway 1A.