Authorities in the Mekong delta province of Hau Giang have banned local authorities from spraying herbicide to kill the fast propagating water hyacinth weed that has overtaken and blocked waterway   traffic on rivers and canals.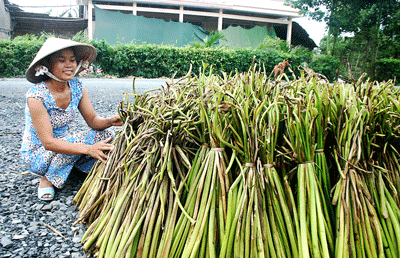 Breeders use the plant for making items for exports (Photo: SGGP)
Many of the rivers and canals in Hau Giang Province have been inundated by an overgrowth of the fast propagating water hyacinth weed that is now obstructing all maneuverability of waterway traffic.
Local authorities in Hau Giang Province have been spraying herbicide 2-4D to kill the wild weed so as to clear waterways on rivers and canals for boats to ply through.
However, several households along Cai Lon and Cai Chau Rivers and the Kinh Cung Canal use river water for their daily activities.
On August 15, Nguyen Thanh Nhon, deputy chairman of Hau Giang People's Committee, asked local authorities to stop spraying the herbicide, but instead find a way to pull out the weed and dredge the rivers and canals.
Le Van Doi, deputy chief of the Hau Giang Department of Agriculture and Rural Development, said local authorities should raise awareness among people who breed water hyacinth, to use it for making exportable products.
Breeders must also contribute to clearing the weed from the water and remove dredged roots from the water by destroying them or throwing them on soil, instead of carelessly throwing them back into the water, because this causes them to propagate once again. 
Related article:
Overgrowth of water hyacinth inundates rivers, canals in Hau Giang Province