Vietnam Airlines has canceled all its flights to Bangkok until November 29 as the blockade of Suvarnabhumi Airport by protestors continues.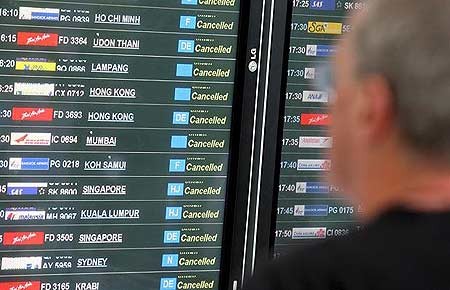 All flights to the Bangkok-based Suvarnabhumi Airport are cancelled (photo: EPA)
Vietnamese tourist companies are trying to evacuate their customers stuck in the Thai capital by land through Laos and Cambodia. Saigontourist said today it would bring 38 people to Ho Chi Minh City through Siem Riep, Cambodia.
Vietnam Airline also said it would operate more flights to Vientiane (Laos) and Phnom Penh (Cambodia) to bring back passengers
Thai authorities have announced that the airport will remain closed until the 29th.
All flights from Ha Noi and Ho Chi Minh City to Bangkok have been canceled since the 26th, leaving many Vietnamese stranded in Bangkok.
Of them 330 are Vietnam Airlines passengers.
Families of the stranded people are besieging tourist companies, asking for information about their loved ones.
More information and assistance is available at the Vietnam Airlines office in Bangkok. Its hotline number is 662 6554137/38/39/40 and 668 18291616. Do Khoi Nguyen is the chief representative of the office.
The airlines' numbers in other countries are: Vientiane 856 205526374; Siem Riep 855 12357866; and Phnom Penh 855 12809694.