The much awaited annual event, The Banh Tet festival 2011 is celebrated every year by focusing on supporting poor and needy people and helping them to enjoy a warm and joyful Tet.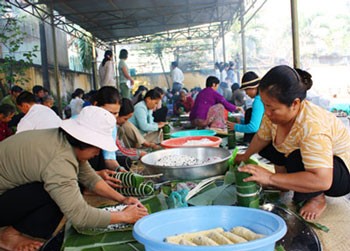 Banh Tet making competition is a highlight activity of the festival
The event will open with a Banh Tet making competition at the head office of the People's Committee on January 26 to 31.
Contestants from 24 districts will make 800 cakes to gift disadvantaged children living in open houses in Ho Chi Minh City.
A total of 10,000 Banh tet (cylindrical glutinous rice cakes) will be gifted to poor families and disadvantaged children in open houses in Ho Chi Minh City.
The Banh Tet festival started in 2004 is a much awaited annual event along with Nguyen Hue Flower Street decorations, Firework displays on New Year's Eve and door shows.
The festival is jointly sponsored by the Saigon tourist Travel Service Company and Phu Tho Tourist Service Limited Company.