Financial institutions in Vietnam have decided to support enterprises that will be purchasing rice from the summer-fall harvest for stockpiling.I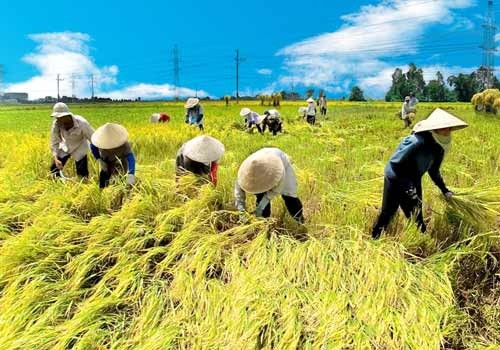 Farmers have harvested a bumper summer-fall rice crop
n a bid to assist enterprises, the State Bank of Vietnam on July 9 sent a dispatch to the Vietnam Export-Import Commercial Bank (Eximbank), asking it to provide funds to companies that are ready to purchase rice for stockpiling from the summer-fall crop.
As per the dispatch, enterprises who are appointed by the Vietnam Food Association will stockpile around 150,000 tons of rice as per government policy and will subsequently enjoy zero percent interest rate.
On the same day, Bank for Investment and Development, Commercial Bank for Foreign Trade, Vietnam Commercial Bank for Industry and Trade, and Vietnam Bank for Agriculture and Rural Development provided special loans at 12 percent interest rate to small and medium enterprises in Tan Binh District in Ho Chi Minh City.
These enterprises are in the fields of garments and textile, mechanics, export, medicine and construction material, and have borrowed a total of VND92.6 billion (US$ 4,443,000).