A 902-ton sand barge collided into dozens of fishing boats anchored at a harbor on the Hau River in Binh Minh District of Vinh Long Province at 6am yesterday morning, while also ramming into a home on the river's edge.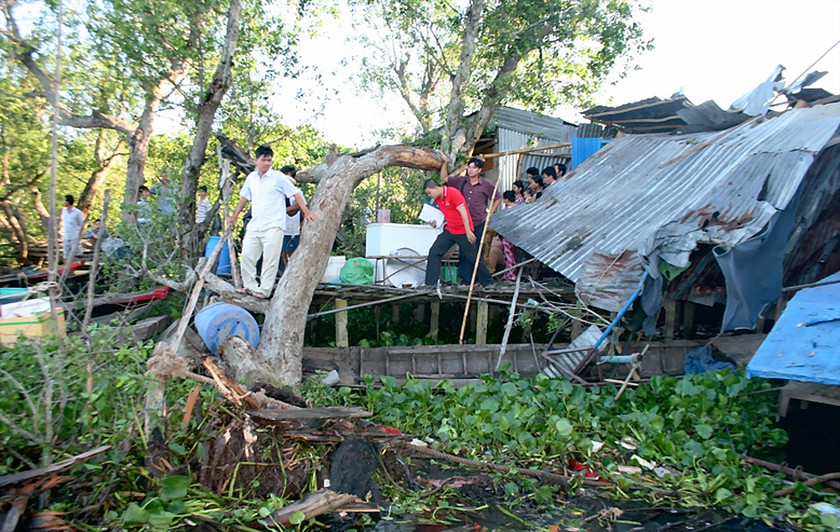 This big tree helps break the barges collision path and saves many lives (Photo: SGGP)
The barge operated by Nguyen Van Thanh, 31, from Hau Giang Province was traveling near the Can Tho Bridge in My Hoa Commune when Thanh fell asleep and caused the accident.
Pham Thi Cam Nhung said her husband and an eight-month-old child were sleeping in a boat when she heard a loud sound like a tree falling. She looked out and saw the barge was heading towards them. Her family instantly fled towards the riverbank and escaped the collision.
The barge then continued ramming at the ten nearby boats and then changed direction towards the home of Nguyen Thi Phung at the edge of the river.
"I woke up early to prepare breakfast and saw the barge hitting several boats. I called my husband and brothers sleeping inside to run out. A minute later, the entire bed room and kitchen were shattered, electric wires broke and all their belongings sank into the river," Phung told.
Nguyen Van Thanh admitted he was tired because of traveling the whole night, so when the barge arrived at the accident spot he dropped off to sleep, which left the barge without any controls.
According to initial estimates, the accident caused a total damage of hundreds of millions of dong.