The collision between a sand barge and a cargo ship in the Cho Gao canal in Tien Giang Province last week has partially shut down what is a key waterway in the Mekong Delta.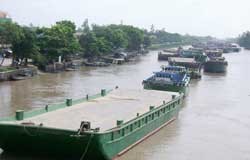 Vessels anchor along Tien River and wait
Yesterday, at the section where the accident took place May 17, there was a massive queue of ships and boats.

Locals said that since Tuesday only vessels sailing from Ho Chi Minh City to Tien Giang were being allowed to pass through the section which happens to lie bang beneath a bridge. Vessels in the opposite direction are required to anchor along the Tien River and wait.

Initially done to ease the congestion, the measure has hardly helped.

By Wednesday evening, nearly 1,000 ships and boats were still moving towards Tien Giang at very low speeds. Hundreds of vessels were waiting along the Tien River for permission to sail into Cho Gao canal. Traffic is only expected to return to normal today.

Of the two vessels involved in last week's collision, the sand barge – the culprit – was traveling from the Mekong Delta to Ho Chi Minh City, and the cargo vessel carrying over 100 tons of urea from Ho Chi Minh to City to Tien Giang Province.

Mr. Nguyen Trong Tho, a top official at the government agency that manages traffic on the canal, said the number of accidents and congestion was increasing, averaging one case every week.

This is possibly due to the booming traffic and the narrowness of the canal.

Tho pointed out that more than 2,000 ships and boats went by every day, among them giant barges and dredgers weighing up to hundreds of tons.

The channel under the bridge is only 26 meters wide. This is not enough for two ships to sail past each other at the same time.

Lieutenant Colonel Nguyen Van Hung, head of Tien Giang's water traffic police, said to ease the problems of congestion, authorities should widen as well as dredge the bridge channel. He also suggested building a stone embankment along the banks to prevent landslides.

The Tien Giang People's Committee is inviting build–operate-transfer bids for building stone embankments as well as dredging the canal. But still at the survey stage, these are likely to take a while for completion.