A barge carrying 680 tons of rice hit the Cai Rang Bridge in the Can Tho River early on March 17. The vessel remained stuck causing waterway traffic to come to a standstill for the next fours hours.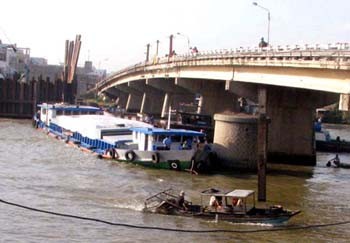 A 685-ton barge crashed into the Cai Rang Bridge in the Can Tho River on March 17, causing a waterway traffic jam that lasted for over four hours (Photo: SGGP)
The 685-ton barge was travelling from Hau Giang in the Mekong Delta to Ho Chi Minh City. While approaching the Cai Rang Bridge in Ninh Kieu District, it suddenly broke down.
The fast-running river turned the barge sideways, leading it to crash into the pillars below the bridge and blocking other boats from passing through.
After the accident, waterway police tried to allow small boats to travel through, but large vessels remained lined up for over one kilometer.
It took workers until 9pm to free the barge and clear waterway traffic.
Police issued a fine to the barge's owner, Nguyen Hong Lac from An Giang Province, for failing to present an operator's license. Mr. Lac then tried to offer a bribe of VND1 million to the authorities, according to Commander Vu Duc Hung from the Can Tho waterway police.
Mr. Lac was issued another fine for attempted bribery, Commander Hung said.
This is the third barge accident to occur in the Can Tho River section from Quang Trung Bridge to Cai Rang Floating Market in the past week.
On March 10, a barge carrying over 350 tons of sand from An Giang to Ca Mau provinces ran into the Quang Trung Bridge in Ninh Kieu District. The incident punctured a large hole in the vessel and it later sank in the river.
On March 13, another barge, also carrying sand, crashed into and sank three boats that were shipping over 30 tons of rice.
According to Mr. Hung, the recent accidents are due to the anchorage of many boats in the area, which narrows the river, in addition to the winding nature of the river section.
Authorities have put up warning signs but say many boat drivers continue to be neglectful.