Developing the bauxite mining industry is Party and Government policy, which will help develop the country's economy and create an impetus for socio-economic development in the Central Highlands, said the Politburo on April 24.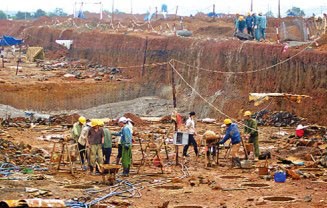 Chinese workers a bauxite site in Tan Rai, Lam Dong province (Photo: SGTT)
In a statement released by the Politburo, it gives conclusions on the planning for bauxite exploration, exploitation, processing and use between 2007 and 2015.
In implementing the Party's resolutions related to this field, the Government has approved two projects to exploit bauxite and produce alumina in Tan Rai, Lam Dong Province, and in Nhan Co, Dak Nong Province.
The Government assigned Vietnam Coal and Mineral Group to invest in the mines. It asked the group to seek qualified foreign partners in developing the sites.
The projects must be developed in ways that ensure both economic and social benefits, with due attention to the efficiency of natural resource use, demand of domestic and international markets, and products' competitiveness.
The projects' potential impacts on the environment must be calculated and assessed carefully and sufficiently, and the developers of the projects must strictly comply with regulations on environmental protection, the Politburo said.
It also directed the mining group to use advanced technologies and equipment.
In addition, developers must help maintain living conditions and the cultural identities of ethnic communities in places where the projects are developed. At the same time, important factors such as security and defense should be afforded attention, said the Politburo.
It emphasized that the bauxite, alumina and aluminum industries must be developed efficiently, both short-term and long-term, to ensure sustainable benefits for the country.
These projects should mainly use domestic labor force and only employ foreigners when necessary.
Important issues related to the two projects will be reported to the Party's Central Executive Committee in its meeting in mid-2009.