About 30 business executives in Ho Chi Minh City attended a seminar on training skills for sales managers held on May 26 by the British Business Group Vietnam (BBGV).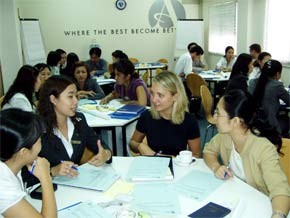 The participants work in group (Photo: Tuong Thuy)
The seminar was conducted in English at Apollo Education and Training by Ms. Ronnie Hill, Apollo training & development manager, and Mr. Tim Clements, Apollo director of studies. 
  The participants came from different businesses and organizations including the Association of Chartered Certified Accountants, commercial real estate company CBRE, British Council, tour operator Exotissimo, HSBC, International SOS clinic, RMIT Viet Nam University, and PEV Steel Co.
They learned essential tips for training their sales teams, how to maximize the transfer of learning and how to drill practices in sales skills. They discussed in groups, worked in pairs and with the trainers.
The BBGV now has more than 250 members and partners, and aims to promote the interests of those members in particular and British businesses in Viet Nam in general.
Link
BBGV