Vice President Nguyen Thi Doan met with Belgian Crown Prince Philippe in Hanoi on Mar. 12 during his six-day official visit to Vietnam, starting on from Mar. 11.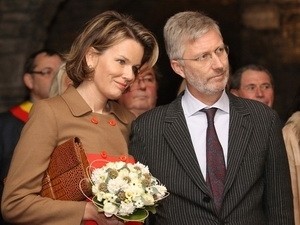 Belgian Crown Prince Philippe and his wife are welcome in Hanoi.
Vice President Doan said that Vietnam always attaches importance to boosting friendship and multifaceted cooperation with Belgium, an important partner of Vietnam in the European Union.
She described the visit as a important milestone in the development of the fine relations between the two countries, especially when Vietnam and Belgium approach the celebration of the 40 th anniversary of diplomatic ties in 2013.
Crown Prince Philippe expressed his impression of Vietnam 's achievements in the national renewal process, which helped improve the country's position in the region and the world.
The two sides expressed pleasure at the active development of their relations in all fields, particularly in politics, diplomacy, economics, cooperative development, education and training.
The two sides agreed to continue exchanging delegations at all levels, while cooperating at international and multilateral forums, especially at the UN and under the framework of ASEM and ASEAN-EU.
They also agreed to continue boosting cooperation between regions and localities of the two countries and creating favourable conditions for their enterprises to seek business and investment opportunities.
They highly appreciated the implementation of cooperative projects and plan to continue to coordinate the implementation of projects under the Vietnam-Belgium Cooperation Programme in 2011-2015, focusing on education and training, water resource management, irrigation and waste treatment.
Vice President Doan thanked the Belgium Government and people for their assistance, especially the increase of development assistance from EUR 35 million to EUR 60 million for the 2011-2015 period. She asked Belgium to continue considering Vietnam as a priority in cooperative development policy with a focus on human resource training combined with scientific and technological development and applications.
Crown Prince Philippe informed the host that he was accompanied by many Belgium businessmen and deans of universities, showing Belgian government, regions and community's desire to boost cooperation with Vietnam. He affirmed a commitment to continued support and cooperation between Belgium and Vietnam in future.
After the meeting, Vice President Doan and Crown Prince Philippe witnessed the signing of four cooperative documents between the two countries.
They included the protocol on the amendment to the agreement on avoidance of double taxation and memorandums of understanding between the finance ministries and the science and technology ministries and the Belgian Government's letter on its provision of an additional EUR 3 million to the EUR 63 million credit meant for the VNREDSat-1B project.
The same day, Crown Prince Philippe and the business delegation visited Hanoi National University . The delegation brings about 300 businessmen from more than 100 enterprises specialising in management of water and waste, transport, logistics, space technology and healthcare.