The Belgian government has agreed to increase its support to the Mekong River Commission (MRC) with a US$ 10.4 million contribution over the next four years to improve river navigation, the Mekong body announced Friday.
Improving river transport infrastructure could be a means for boosting trade and staving off economic downturn, says the MRC.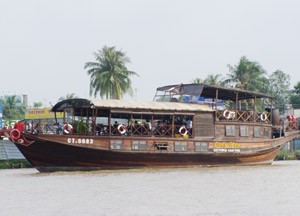 A tourist ship navigates on the Hau River in Can Tho City, Vietnam. The river is one of the two main branches of the Mekong in the country. (Photo: Tuong Thuy)
"Improving the safety of navigation in the Mekong Basin is vital for the economic development of the region," said Jeremy Bird, CEO of the MRC, the inter-government organization that helps Mekong Basin countries manage their water resources.
He added, "It is essential that Mekong countries improve the quality of waterborne transport. By using rivers in a more efficient manner, export potential can improve and this will, in turn, help the region achieve its poverty alleviation goals."
US$6 million of the Belgian funding will be earmarked for the further improvement of properly marked navigation channels in priority stretches of the river, which the MRC says will help make Mekong travel less precarious.
The remaining US$ 4.4 million will go towards helping Mekong countries, including Vietnam, assess sustainable forms of hydropower that balance environment, social and economic considerations to utilize the renewable energy sources in the region, according to the Mekong body.
The US$10.4 million contribution to both the Navigation and Sustainable Hydropower Programs of the MRC will make Belgium one of the organization's most significant development partners.
More than 60 million people in the lower Mekong basin depend on the river system for food, transport and economic activity.
The four MRC members are Cambodia, Laos, Thailand and Vietnam.