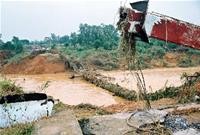 The Ben Tat bridge collapsed in the Ben Hai River
The Ben Tat Suspension Bridge in Quang Tri Province, which collapsed in the Ben Hai River due to flooding on October 8, 2005, is being raised on Monday.

The bridge, 150 meters long and 6 meters wide, was built in 1973 with the help of Cuban engineers and was recognized as a national historic site in 1986.
Mr. Mai Cu, captain of the construction crew, said that torrential rain in December has impeded progress in the bridges resurrection.